As a new slackliner you will hear about numerous types of lines, all of which have some big differences in how you can walk them. The benefit to these options means you can always find one that you are interested in and one that you can take on as a new challenge to expand your skills.
What are the different types of slacklines:
Lowlining
Longlining
Highlining
Tricklining
Fitness Lining
Urbanlining
Waterlining
Yoga Lining
Rodeo Line
I know you are now going, why, why are their so many different types of lines. Well that is because each are very different yet similar to each other, some will be a mile above ground, some will be less than 3 inches from the ground.
This is why you will come to love slacklining, its what hooked me!
Why Are There So Many Different Types of Lines?
This has occurred as the sport has grown and exploded into new realms to make it more challenging, interesting, and fun. Things like rodeo lines didn't exist before but they put a new twist onto an existing sport and allow it to continually grow.
Exploring Each Line To Find Your Match
Lets dig into each of the most common types of lines to help you get a basic understanding of each type and how it maybe fits with your style of play.
What Is Lowlining?
This is where a beginner should start as this is running a line closer to the ground. Typically anywhere up to 3 feet off the ground with a high tension allows the mounting to be done easier and that the line won't sag.
One of the biggest benefits to lowlining, especially for a starter, is that the consequences if you should fall are quite low, and beginners often find it easier to find their balance with this tighter type of line.
What is Longlining?
Unlike lowlining the whole point of longlining is to walk a minimum of 100 feet straight on a line. This will need to be setup in different manners depending on the points of contact and the land.
Running a line this distance though requires much different setup than other types of slacklining as you will need a pulley system to properly maintain tension on the super long webbing.
Many will string a long line walk over water for a fun challenge, if you can find the room though you can string a longline along the ground similar to lowlines at 3 feet.
What is Highlining?
This is the pinnacle of the sport, this is the current apex of the slacklining world. In highlining your line is ran very high above the ground, sometimes this can be thousands of feet up in the air!
There is a lot of setup which goes into setting up a highline as it requires better tension and safety configuration as if it fails the result could be devastating. These setups have highly specialized lines, backup systems and rigging to properly prepare.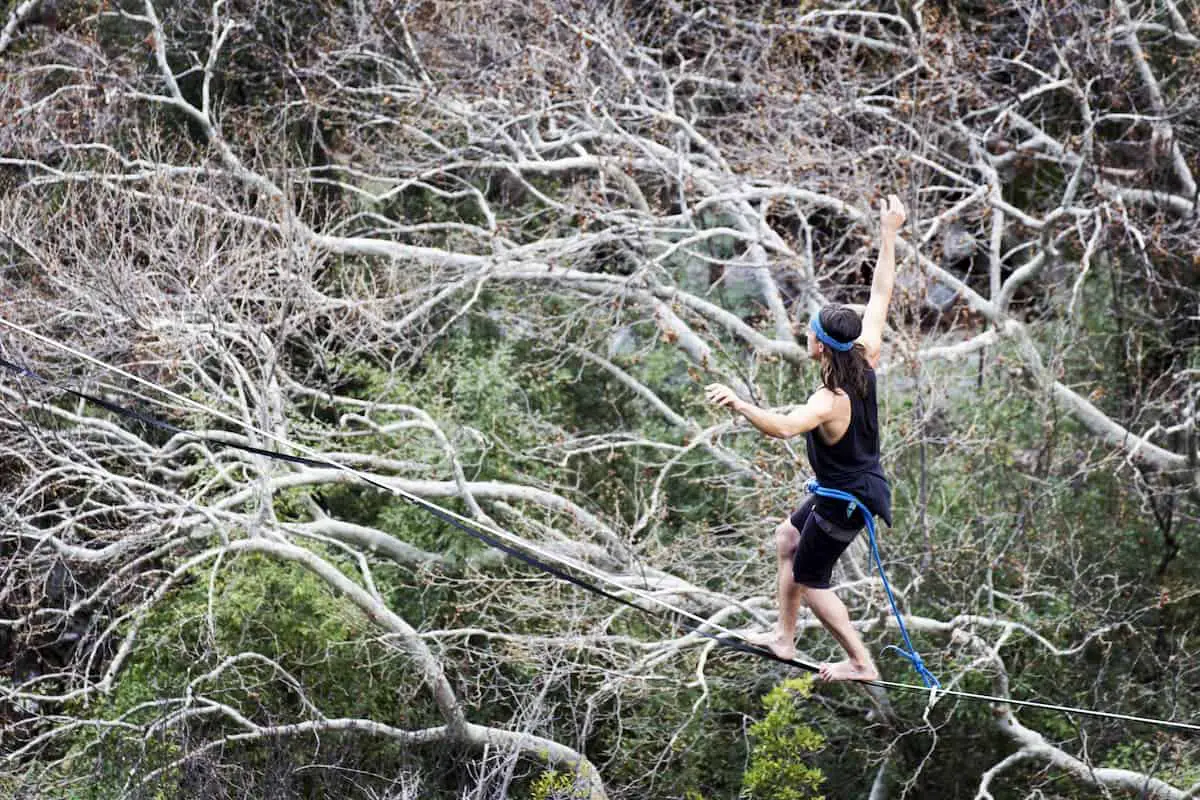 When you reach this level of heights you will see people wearing harnesses to keep themselves tethered to the line, this keeps them safe should they lose their footing they don't fall to their death.
What is Tricklining?
This one is for the acrobats, the people who like to high fly and perform stunts, the extreme athletes who push the line performing amazing aerial stunts from the slackline.
Tricklines use a super thin webbing which provides a bounce more akin to a trampoline than to the normal webbing. This is done so that they get that extra bounce to perform tricks continually.
A trickline will be rigged close to the ground as most people who are performing tricks will be expected at some point, or multiple points, to fall off the line due to their high level of difficulty.
What is Fitness Lining
This line is much more about mastering your body instead of just balance and tricks. These lines will be used for crazy things like push ups and hand stands, they have grown into a big thing in Crossfit and Yoga studios due to their challenge factor.
These lines are strung up indoors in most places as they don't need a wide area due to the control and workout being performed. They are setup this way due to the need for fitness and strength routines.
What is Urbanlining
This is the most common style you see when on the tv, news or other websites. Urbanlining is all about mixing and matching all the other slacklining disciplines in local areas.
The main goal is to use two trees in a pack or similar like fence posts, or pillars on the pier. The point being that it allows you to play and workout ANYWHERE, no more limitations to access.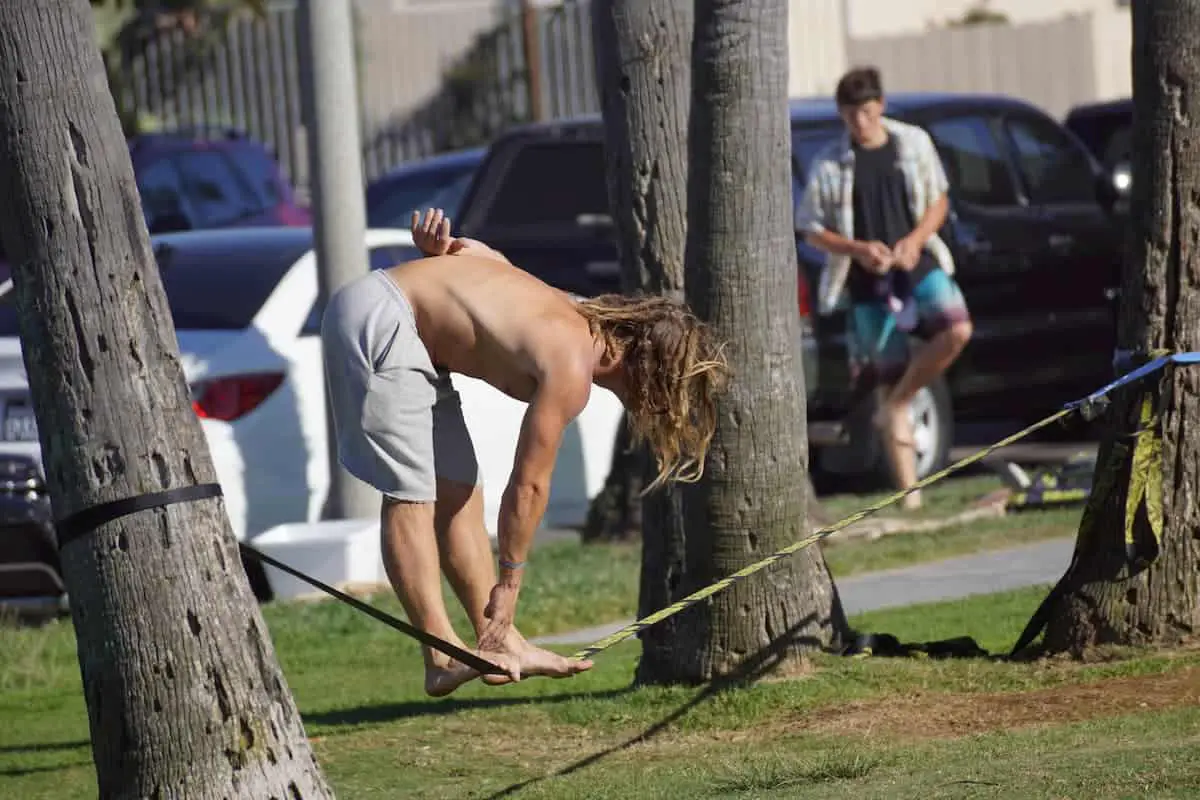 Most commonly this line will be set up about 3 feet from the ground to allow for safety for tricks and line walks. This is one of the most fun styles as it is a mixture of the parts you may find fun.
What is Waterlining
This is the choice of people with access to large bodies of water, in the image below this is a pool. But this isn't a requirement and people will frequently do it over a river or lake.
You then setup your slackline to run close to the water but not touching it, one of the main benefits about waterlining is you can fall and not take as much impact.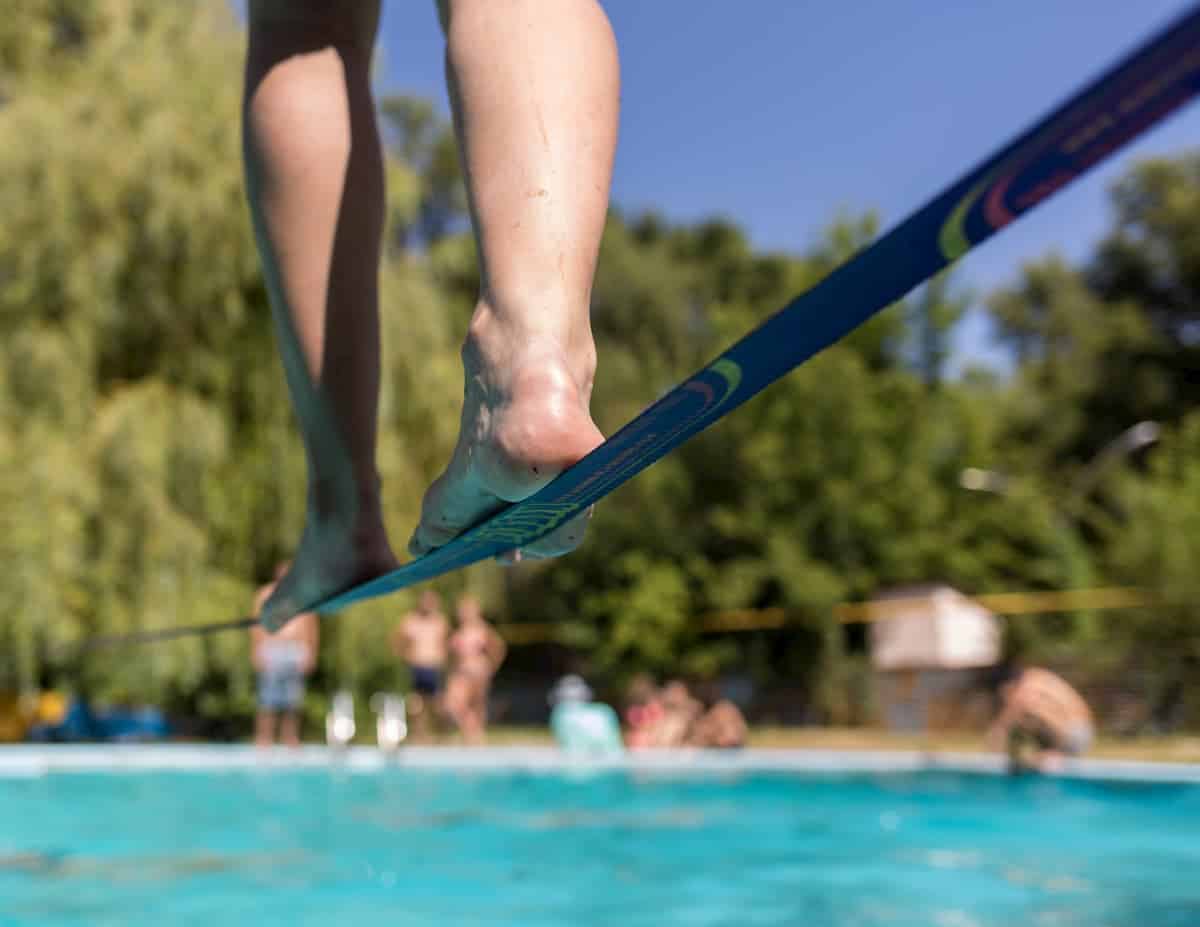 Due to the water this means you can run more difficult tricks to allow you to practice the harder ones without the penalty of pain.
Waterlining is more dangerous is you should not do your proper pre-work like ensuring the water is deep enough to be safe from harm on a fall.
What is Yoga Lining
Now this one, unlike the others, isn't about moving constantly and doing tricks. With yoga lining instead you are trying to relax and maintain your balance which requires great strength and concentration.
A yoga liner will continue to breath deeply and maintain control through smooth and slow movements, instead focusing on complete control.
Due to this concentration level and focus on internal it has become a trendy alternative to standard yoga and other "relaxation" oriented workouts.
What is a Rodeo Line
Rodeo line is a new man on the block but is probably one of the most frustrating and fun rolled into one! A rodeo line is rigged into place with a tremendous amount of slack on the line.
When the anchors are placed they are most often placed far above head height and secured into place with carabiners to allow the line to lay very slack.
This means when you stand on the line the middle may be only a few inches from the ground and it forms a very distinctive "V" shape that will let all who slack know what you are performing.
The most fun part for a rodeo line is to watch new people attempt to just mount the line. As its namesake for most when they first attempt to get on the line it will wildly swing sideways tossing the person off like a bronco.
Final Thoughts on the Different Types Of Slacklines
One of the most interesting things about slacklining is there is no one size fits all approach to enjoying your time. While you may find one to be your more enjoyed approach you should look to add in a different type to continue to grow your skills.
Nothing can stop you while you slackline, your skills can continue to grow as you build your experience. One day you will choose to purchase your own line, we can't wait to hear from you about your experiences!
We would love for you to join our Facebook group over here and subscribe to us on YouTube as we start to show you the benefits to outdoor diversions and show why you should take time to enjoy them and not be stuck inside.