When you own a trampoline you may think you could jump in your shoes but this isn't a proper way to treat the mat and trampoline and can lead to excess wear much faster. Instead, most people choose to go in socks and sometimes barefoot, the benefit of barefoot is typically better traction from your feet.
What Are Trampoline Socks? Trampoline socks are designed to help provide enhanced grip on the trampoline surface and to add enhanced protection to your feet when they are exposed. They can ensure you have protection from any springs and keep them hygienic by removing the exposure to public systems.
Let's explore the options with trampoline socks, reasons they would be helpful and then we are going to jump to the best options available. This should help you understand why you may want to grab a pair and some spares for guests.
What Are Trampoline Socks?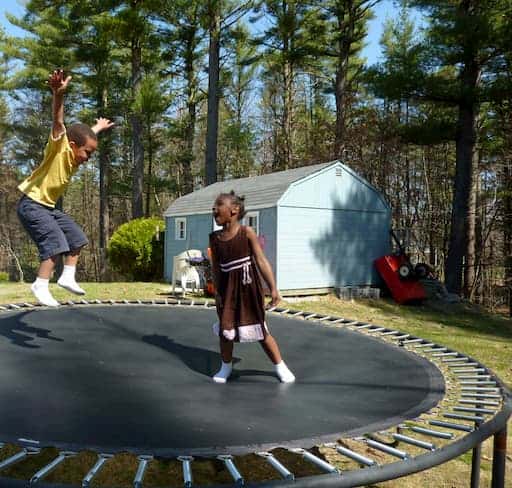 If you have ever visited a trampoline park you will see that they include socks that everyone must wear, this helps to cut your costs in wear and may help in keeping it clean. Trampoline socks are better than bare feet which have body oils and cause the buildup of the black residue on a trampoline.
This is also just much more sanitary as you can frequently clean them and ensure that the trampoline stays cleaner. Let's look into the reasons why you, like a trampoline park, should decide to have trampoline socks as the preferred option.
Reasons To Wear Trampoline Socks
There are three core reasons why trampoline parks and yourself would find socks good to wear while bouncing. They are to protect you from slips, keep your toes safe, and to help prevent diseases.
Protect Your Feet From Slipping
One accident waiting to happen is slipping while playing on your trampoline, while silly this is a decent cause of physical injury on a trampoline.
Protection For Toes
With you five little piggies you have additional issues with your toes having a chance to get caught in the many nooks and crevices. Instead, the socks give us a good chance to ensure our toes are all kept in the same place.
Protection From Contact Diseases
There is also the addition of diseases that can live on the trampoline surface themselves. This is more precautionary, if you are cleaning consistently then this shouldn't be cause for much concern.
3 Best Trampoline Socks
Below are the best value and grip socks I have been able to find online, they will provide excellent traction control while covering your toes. If you would like to read move about each after the table we dig in a little more about the benefits and cons of each option.
Image
Title
Price
Prime
Buy
Premium NonSlip Grip Socks Anti-skid - USA size 6.5-9.5 Perfect for Trampoline Yoga Pilates

Prime

Eligible

Buy Now
Rymora Grip Socks for Women & Men - Sticky Anti Slip Non Skid - Perfect for Yoga, Pilates, Barre, Hospital, Labor, Trampoline (2 Pairs: Grey & Navy) (Medium: US Men: 7.5-9.5 / US Women: 8.5-10.5)

Prime

Eligible

Buy Now
6 pairs of Black Non-slip Socks ABS, SPORT: Yoga Fitness Pilates Trampolines M

Prime

Eligible

Buy Now
Prices and images pulled from the Amazon Product Advertising API on:
Rymora Non-Slip Grip Trampoline Socks
Meticulously designed to ensure they provide the most optimal experience possible. Jump with more control and help prevent slipping on the smooth trampoline surface.
Rymora Features
SOCKS THAT YOUR FEET WILL LOVE: Say hello to premium quality socks that your feet will fall in love with at first sight.
SOCKS THAT HAVE ALL THE FEATURES YOUR FEET DESIRE: Cushioned soles for comfort. Ventilation arch bands to keep your arch supported and feet cool. Seamless toe seams for extra coziness.
SOFT AND SUPERIOR QUALITY: High cotton contents of 80% provide your feet with that luxury soft feel with strength and stretch provided by polyamide (12%) and elastane (3%) and grip provided by PVC (5%).
MXL MaXimus Life Premium Non-Slip Grip Trampoline Socks
The least expensive option on the list above, this may make you think they are a lesser quality but these are some tough socks when you read the reviews.
MXL Features
Top-quality and extremely comfortable, Maximus Life have designed this high-quality nonslip anti-skid, Grip Socks that feel great on your feet made up of 80% cotton, 15% polyester, and 5% spandex, allowing for breathability and very effective grip to the foot.
Wearing Maximus Life grip socks will give you confidence in your movement patterns whilst playing an important part in injury prevention and allowing excellent feel and proprioception in order for you to keep in perfect balance and control.
Amazing comfort and feel when used on exercise trampolines and indoor fitness trampolines and rebounders
Rainbow Sock Black Non-slip Trampoline Socks
At first glance, it may seem that the products that are simple socks. Of course, that's pretty true, but it doesn't fully reflect what they do. In the form of a sock, they encapsulate what we love most!
Rainbow Features
CERTIFIED SAFETY - The grip dots that we use to produce our socks are the BEST existing SAFETY SYSTEM for your feet on the market. The Italian silicone ABS located on the bottom of the sock has received Oeko Tex Standard 100, GOTS (Global Organic Textile Standard). In order to receive such an important certificate, the material went through numerous tests that confirmed the top quality and safety of our socks, unlike the hardening low-quality rubber grip dots from Asia.
WIDE APPLICATION - Non-slip Rainbow Socks are ideal both during yoga, Pilates, or fitness classes and during dance classes, martial arts, and other types of exercises. Owing to their grip, you won't risk slipping on the floor and losing balance during exercises. They're also extremely comfortable for walking around the house. Owing to the cotton fabric with nets, the socks are breathable and guarantee no compression.
IDEAL FOR TRAMPOLINES - Non-slip Rainbow Socks are used by several dozen trampoline parks in Europe! Owing to high quality, our socks have been appreciated and ordered in bulk quantities by professional entertainment parks. That's why our Non-slip Rainbow Socks are also ideal for home use on trampolines in our gardens. In Rainbow Socks, our feet will feel comfortable, won't slip, and won't perspire so much.
Final Thoughts
Whether you choose to go with socks or sockless I just wanted to provide you the information and details which will get you the best results. We as a site intend to always provide the information that will help you on your journey if you find something you would love for us to cover then feel free to contact us.
We would love for you to join our Facebook group over here and subscribe to us on YouTube as we start to show you the benefits to outdoor diversions and show why you should take time to enjoy them and not be stuck inside.